Are you planning your next outdoor adventure?
Don't forget to pack a reliable ice cooler to keep your drinks and food cold and refreshing. Lucky for you, Target has got your back with a wide variety of ice coolers to choose from.
Whether you need a small portable cooler or a larger heavy-duty model, Target has it all. Plus, with top brands like Yeti, Coleman, and Igloo, you can trust that your contents will stay icy cold no matter what the weather is like outside.
But wait, there's more. Target also offers useful accessories for your ice cooler such as ice packs, cooler dividers, and beverage holders.
And with regular sales and offers, you won't have to break the bank to get the quality ice cooler you need. So whether you're heading out on a weekend camping trip or having a backyard barbecue or beach day, make sure to grab an ice cooler from Target.
With its unbeatable prices and large selection of options, staying cool and refreshed on your adventures has never been easier.
What is Target?
Founded in 1902 by George Dayton, Target has become the eighth-largest retailer in the country.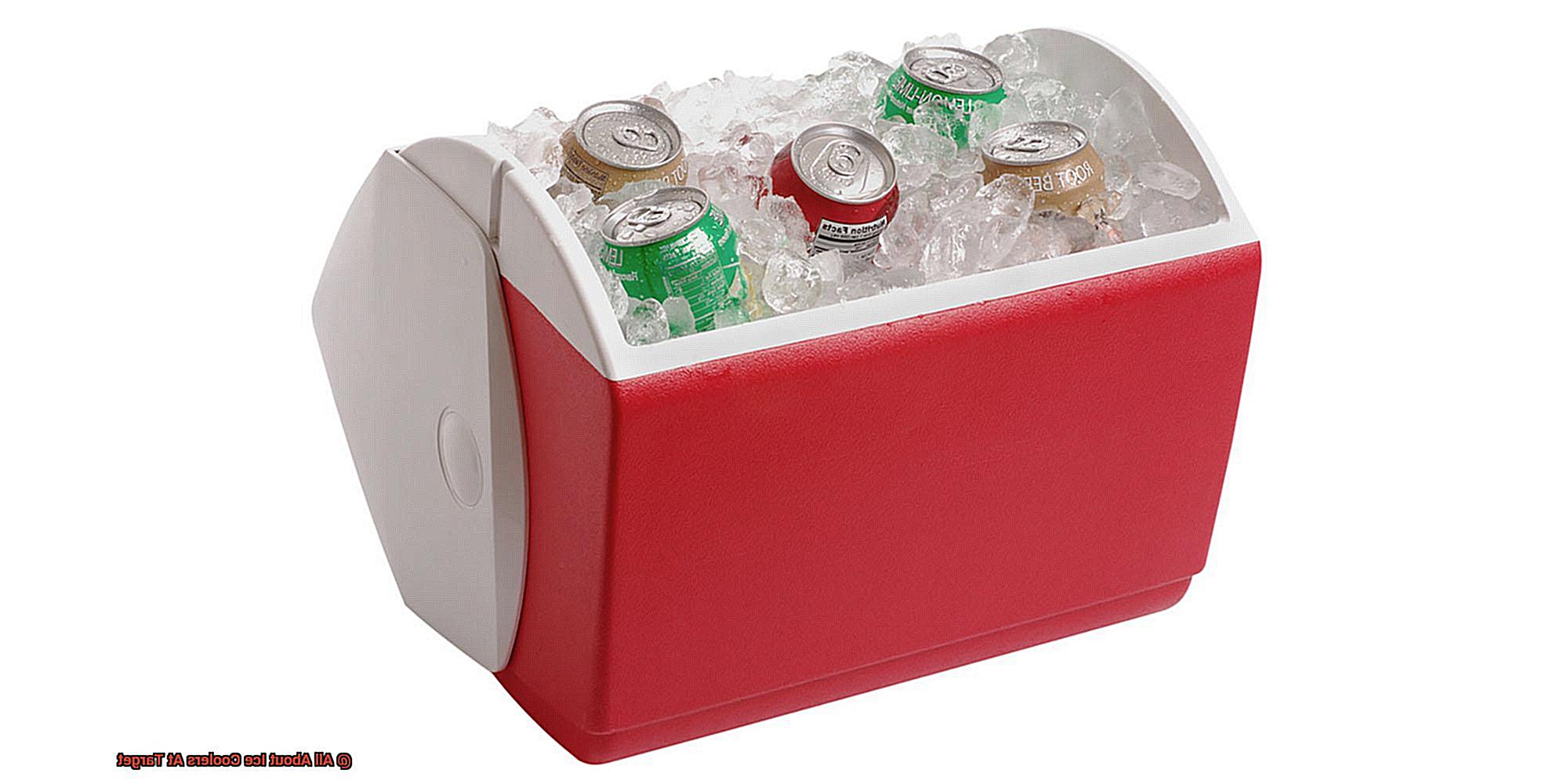 Target is committed to delivering high-quality products at affordable prices, and this commitment is evident in its wide range of offerings, including clothing, electronics, groceries, home goods, and more. What sets Target apart from other retailers is its ability to keep up with current trends while still providing high-quality merchandise.
Collaborating with designers to create exclusive collections is just one way Target stays ahead of the game. The company also offers a range of services, such as online shopping, same-day delivery, and curbside pickup, making shopping more convenient for customers.
With a variety of brands to choose from, such as Coleman, Igloo, and Yeti, customers can find coolers in various sizes and colors to fit their needs and personal preferences. If you're looking for a high-quality cooler that will keep your items cold for a long time, look no further than Yeti – one of Target's most popular brands.
Yeti coolers come in a variety of sizes ranging from 20 quarts to 350 quarts, making it easy to find one that suits your needs. On the other hand, if you're on a budget but still want a reliable cooler, Igloo has got you covered.
This well-known brand offers a variety of sizes and colors at an affordable price point. But that's not all.
Target also has accessories that can be used to enhance your experience with your cooler. For example, they've developed ice packs that fit perfectly into their coolers, ensuring that your products stay cold for longer stretches.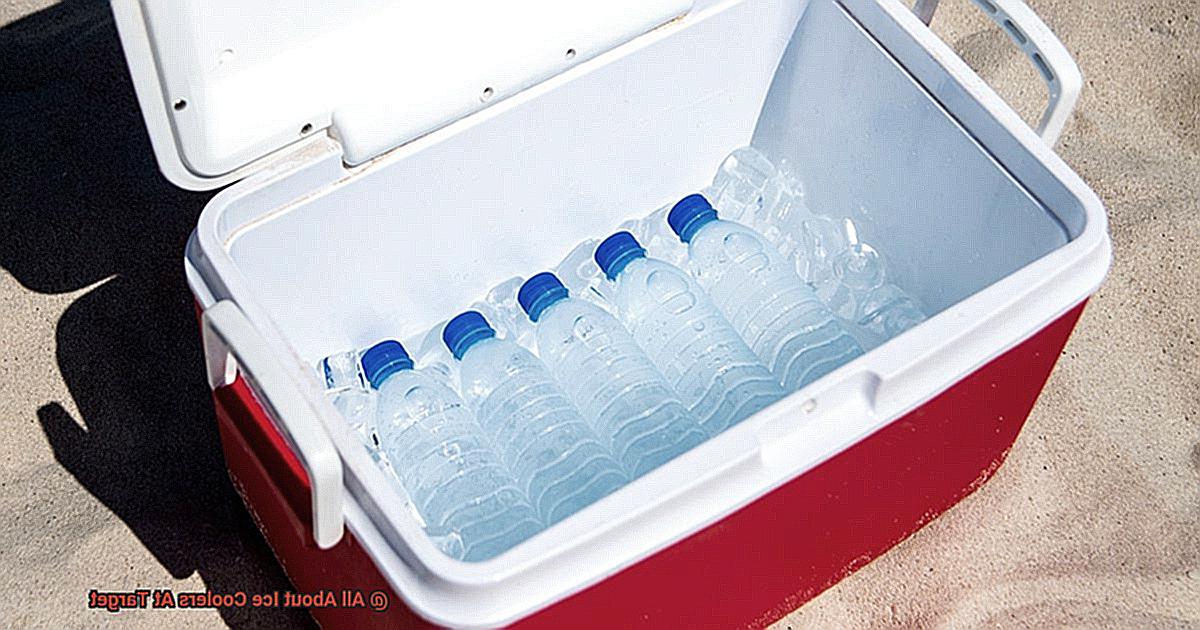 They also have cooler bags and backpacks that allow you to carry your cooler around while keeping your hands free. Target offers promotions and discounts on their products, making it an attractive option for those looking for a good deal on an ice cooler.
Additionally, Target's commitment to providing the best service possible means they offer online shopping, same-day delivery, and curbside pickup.
Types of Ice Coolers Available at Target
Whether you're planning a camping trip, a day at the beach, or simply need a cooler for your backyard barbeque, Target has something to meet your needs. One of Target's most popular ice cooler models is the hard-sided cooler.
These coolers are built to last, constructed from sturdy materials like plastic or metal, and offered in various sizes and colors. They're designed to keep your food and drinks cold for extended periods of time, making them a go-to option for longer trips or outdoor events.
If you're in search of something more portable, consider Target's soft-sided coolers. Made with lightweight materials like fabric or nylon, these coolers can be carried with ease thanks to their shoulder straps or handles.
They're perfect for shorter trips or outings where you want to keep your items cool without carrying a heavy cooler around. In addition, Target offers environmentally friendly ice coolers made from recycled plastic.
These eco-friendly coolers help to minimize your impact on the environment while enjoying the outdoors.
Overall, Target has an impressive selection of ice coolers that cater to different needs.
Yeti – Quality and Variety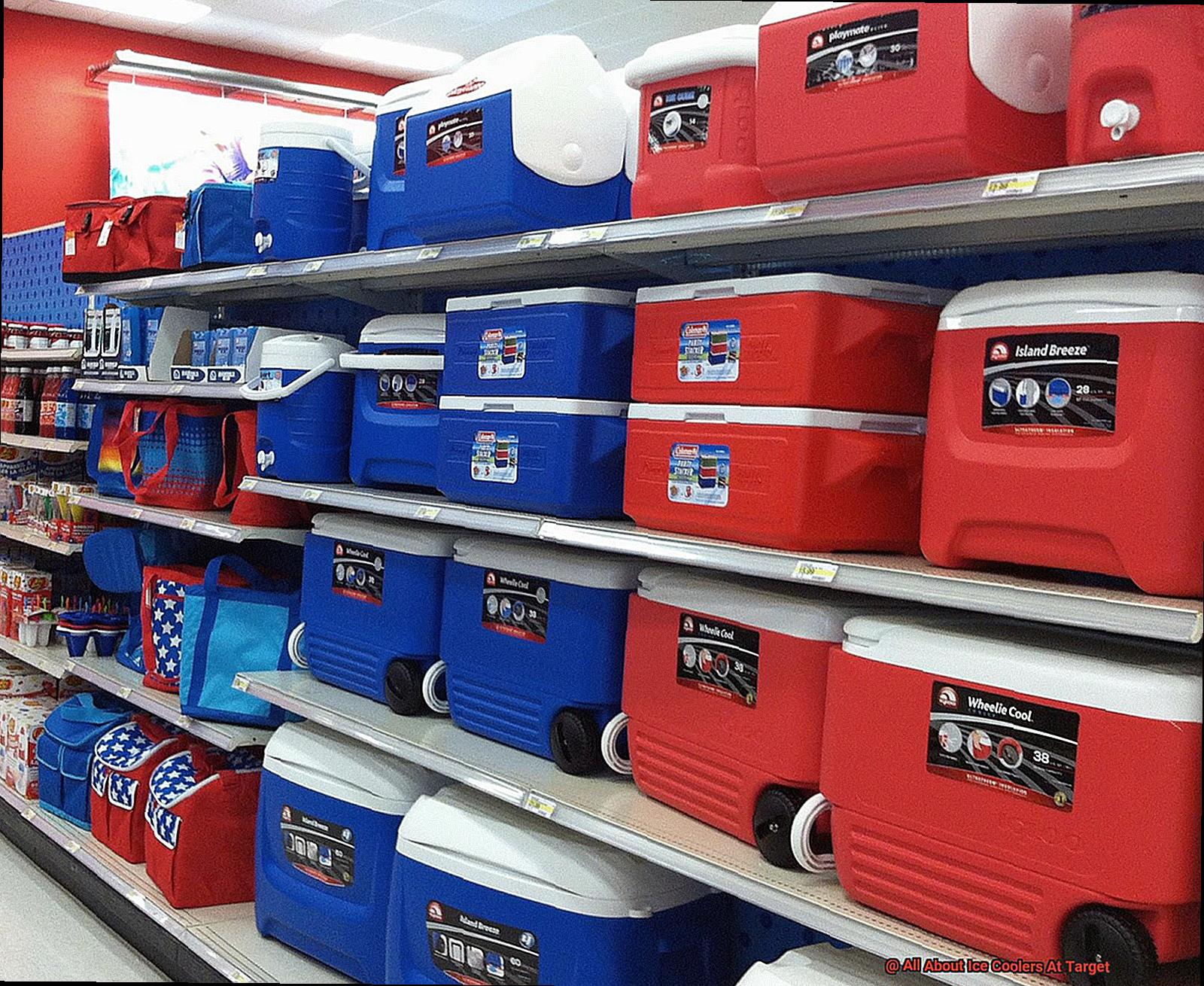 When it comes to high-quality, durable coolers, Yeti is a brand that stands out.
Target stocks a variety of Yeti products, so you can find the perfect cooler for your needs.
One of the main reasons why Yeti coolers are so popular is their ability to keep ice intact for longer periods than other brands.
This is thanks to their rotomolded construction and two-inch thick walls, which provide excellent insulation.
Whether you're camping in the heat of summer or tailgating during football season, your food and drinks will stay cold for days.
But what really sets Yeti apart is the variety of products they offer. Target has the Tundra series, which boasts a large capacity for those who need to keep a lot of items cold.
If you're looking for something more compact and portable, the Hopper series is an excellent choice. And if you need a smaller cooler for shorter trips, the Roadie series is perfect.
Yeti also offers a range of accessories that can help enhance the performance of their coolers. From ice packs to tie-down kits and bottle openers, these accessories are designed to help you get the most out of your investment.
Igloo – Budget-Friendly Options
With a wide range of options to choose from, Igloo caters to various needs and budgets, making them the perfect choice for anyone who wants to enjoy the outdoors without breaking the bank.
The Igloo MaxCold Cooler is one of their most popular models, perfect for large outdoor gatherings or camping trips.
Available in various sizes, ranging from 40 quarts to 100 quarts, it features Ultratherm insulation in both the body and lid, which keeps ice frozen for up to five days in temperatures as high as 90°F.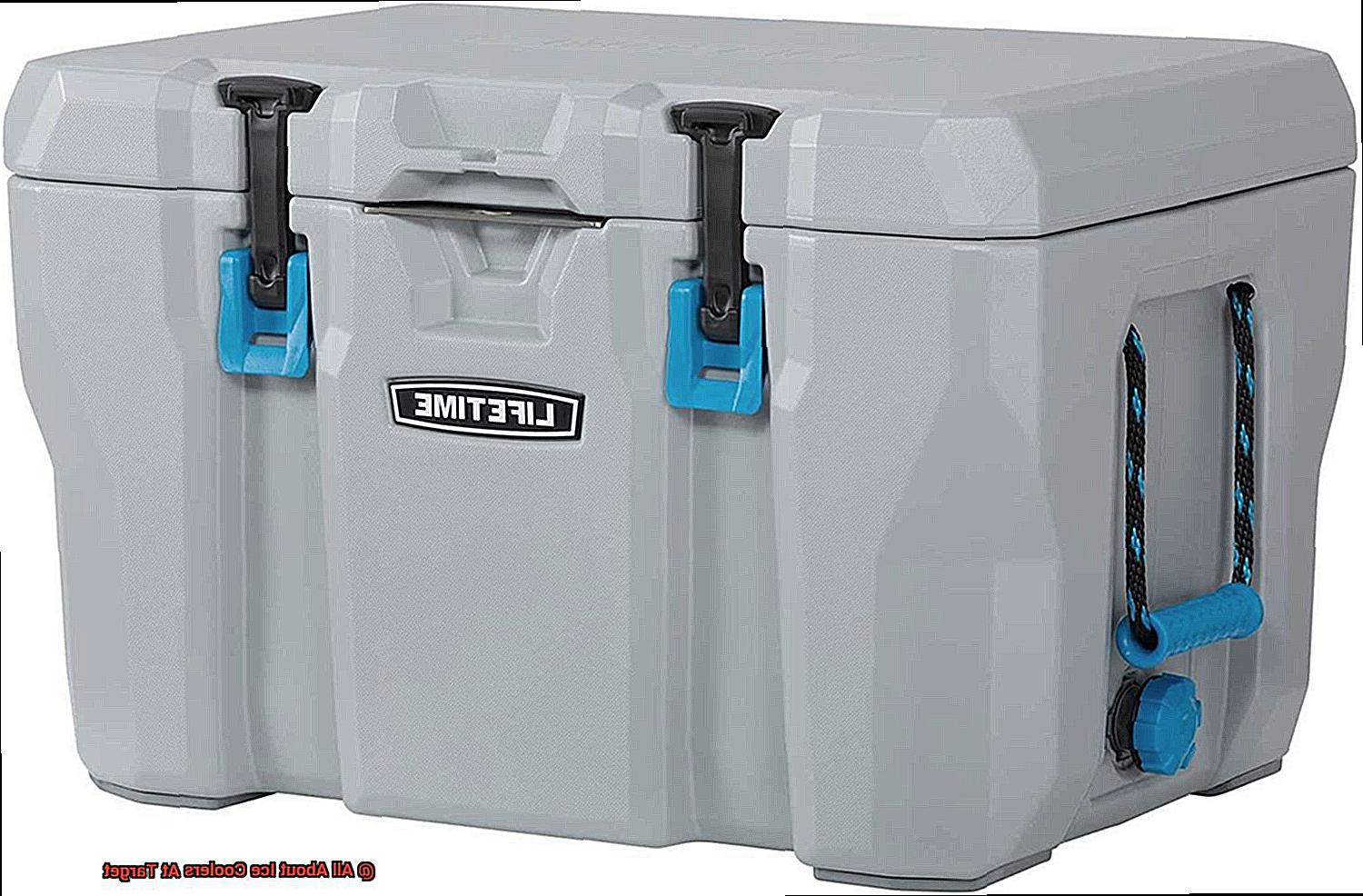 For those who require a smaller option, the Igloo Playmate Elite Cooler is an excellent choice.
Despite its size of only 16 quarts, it still features Ultratherm insulation that can keep ice frozen for up to two days. This cooler is perfect for picnics, day trips, or as an additional cooler at larger gatherings.
If you're looking for a versatile option that offers more than just cooling capabilities, the Igloo Trailmate Journey Cooler is an excellent choice. With large wheels and a telescoping handle, it's easy to transport even on rough terrain.
This model also features a butler tray and built-in cup holders, making it ideal for tailgating or outdoor parties. Igloo coolers are designed to make outdoor activities even more enjoyable.
Accessories to Enhance Your Experience
First and foremost, a cooler lock is an essential accessory that can provide much-needed peace of mind. With this simple addition, you can rest assured that your cooler and its contents are secure and safe from theft or tampering.
To keep your cooler organized and tidy, consider investing in a cooler divider. This handy accessory will help you separate food items from drinks or different types of foods, making it easy to find what you need without having to dig through a jumbled mess.
If you plan on using your ice cooler for extended periods of time, a rechargeable battery-operated fan can be a game-changer. This accessory helps circulate air inside the cooler, keeping your food and drinks colder for longer, making it perfect for multi-day camping trips or outdoor events.
Target also offers various sizes of reusable ice packs specifically designed for coolers. These ice packs can be frozen ahead of time and provide long-lasting cooling power to keep your food and drinks cold throughout the day.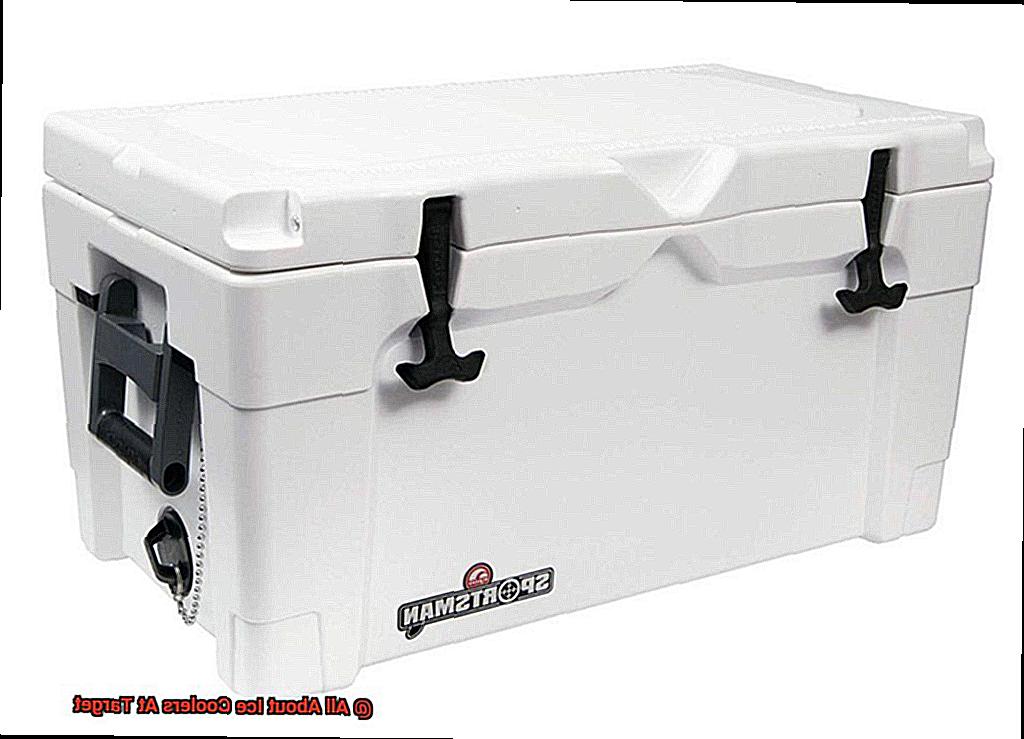 Lastly, investing in a quality cooler cover can protect your ice cooler from scratches, dings, and other damages while in transit or storage. Not only does it offer added protection, but it also helps insulate your cooler even further, ensuring your items stay colder for longer periods.
So, upgrading your ice cooler with accessories from Target is a smart move that can greatly enhance your overall experience. From cooler locks and dividers to rechargeable fans and reusable ice packs, Target has everything you need to take your cooler game to the next level.
Conclusion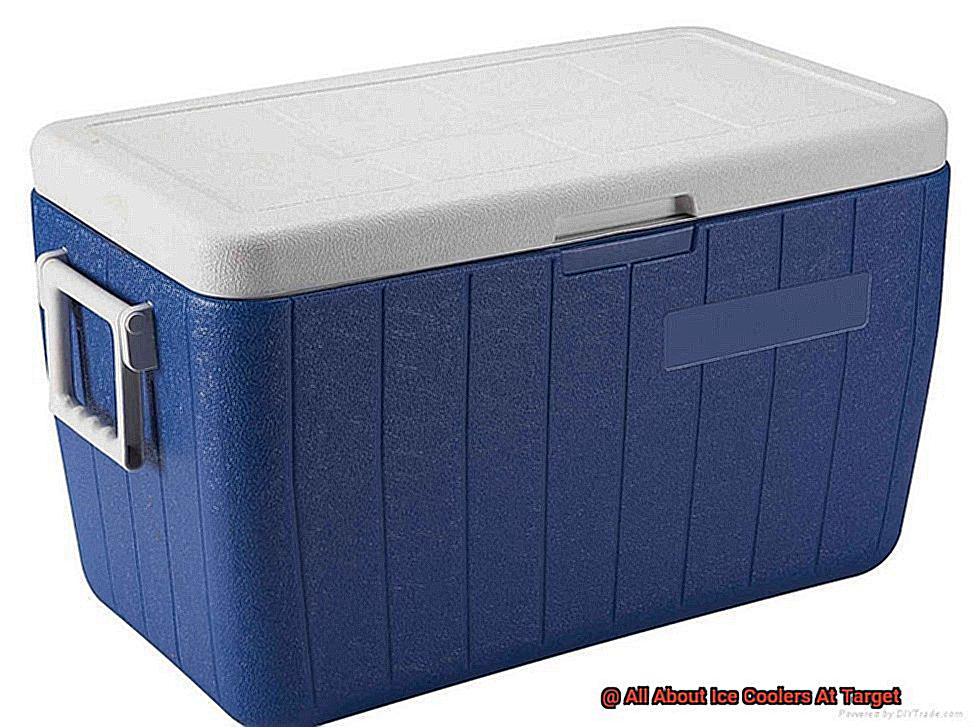 To wrap it up, Target is the ultimate one-stop-shop for all your ice cooler needs.
With a vast selection of brands and models, you're guaranteed to find the perfect cooler for your next outdoor adventure. Whether you prefer a compact portable cooler or a heavy-duty version, Target has got you covered.
Target's commitment to providing high-quality products at affordable prices is evident in their range of top-notch brands such as Yeti, Coleman, and Igloo. If durability and ice retention are what you're after, Yeti coolers are the way to go.
However, if you're looking for budget-friendly options without compromising on quality, Igloo has got your back. But that's not all.
Target also offers an array of accessories like ice packs, cooler dividers, and beverage holders to enhance your overall experience. These nifty accessories will help keep your items organized and chilled throughout the day.
Target goes above and beyond in delivering exceptional customer service through their online shopping options such as same-day delivery and curbside pickup.