Are you a grill enthusiast on the hunt for the perfect outdoor cooking machine? If so, you've likely heard of KitchenAid, a brand that's synonymous with high-quality kitchen appliances. But did you know that KitchenAid grills aren't actually made by KitchenAid themselves?
The real manufacturer behind these popular grills is Nexgrill Industries, a leading producer of gas grills in the industry. Don't let this fact discourage you, though. Despite not being made under the KitchenAid name, these grills still have all the features and qualities you'd expect from a top-of-the-line model.
In this blog post, we'll dive deeper into the relationship between KitchenAid and Nexgrill, exploring similarities and differences between their respective grills. We'll also take a closer look at what sets KitchenAid grills apart from their competitors – innovative cooking technology, sturdy construction, and sleek design. Whether you're an experienced grill master or just starting out, this post will give you all the information you need to make an informed decision about whether KitchenAid grills made by Nexgrill are right for your needs.
What is KitchenAid?
For over 100 years, KitchenAid has been a household name in the world of kitchen appliances. From stand mixers to food processors, the brand is renowned for its sleek and durable designs, as well as its commitment to producing appliances that are both functional and stylish. But did you know that KitchenAid also offers a line of high-quality gas grills?
In 2005, KitchenAid ventured into the outdoor cooking market with the launch of its gas grill line. These grills quickly gained popularity among consumers due to their top-notch construction, sleek design, and superior cooking performance. However, rather than manufacturing the grills themselves, KitchenAid partnered with Nexgrill to produce them.
Nexgrill is a company that specializes in producing high-quality grilling equipment and accessories. With over two decades of experience, they have built a reputation for delivering innovative and reliable products. By partnering with Nexgrill, KitchenAid was able to ensure that its grills met its strict standards for performance and durability.
But KitchenAid's dedication to innovation doesn't stop at their gas grills. The brand has introduced numerous new technologies and features to its products over the years, such as the planetary mixing action used in their stand mixers. This commitment to pushing boundaries has helped KitchenAid stay ahead of the curve in an increasingly competitive industry.
In addition to gas grills, KitchenAid produces a wide range of other kitchen appliances, including blenders, food processors, and stand mixers. Their stand mixers are particularly popular among home cooks and professional bakers alike.
What is Nexgrill?
For over two decades, Nexgrill has been a leading manufacturer of outdoor grills and accessories, offering a range of products that are both affordable and of high quality.
Nexgrill's product line includes gas, charcoal, electric, and portable grills, as well as accessories such as grill covers, cooking grates, and rotisserie kits. Whether you're planning a backyard barbecue or a camping trip, Nexgrill has the perfect grill for your needs.
But what really sets Nexgrill apart is their commitment to innovation and technology. The company invests heavily in research and development to create new products that meet the changing needs of consumers. They also use advanced manufacturing techniques to ensure their products are durable, reliable, and easy to use. This dedication to innovation is evident in the design of their grills, which feature cutting-edge features like temperature control systems and built-in rotisseries.
In addition to their impressive product line, Nexgrill has partnerships with several leading retailers and brands. You can find their grills at Home Depot, Sam's Club, and KitchenAid stores across the country. This allows them to reach a wider audience and offer their products in more locations.
Are KitchenAid Grills Made by Nexgrill?
KitchenAid is a trusted brand that's renowned for its high-quality kitchen appliances. But when it comes to their grills, there's been some confusion among consumers as to whether or not they're made by Nexgrill. As an expert on this topic, I'm here to provide you with the facts.
Nexgrill is a Chinese manufacturing company with over 25 years of experience producing top-notch outdoor cooking appliances. They're known for their affordable and reliable products and have partnerships with major retailers such as Home Depot and Sam's Club. Meanwhile, KitchenAid is an American brand that's best known for its iconic stand mixers but has also expanded into other kitchen appliances, including grills.
In 2007, KitchenAid entered into a licensing agreement with Nexgrill to manufacture and distribute KitchenAid-branded grills. This means that many of the KitchenAid grills you'll find on the market are, in fact, made by Nexgrill. However, it's important to note that not all KitchenAid grills are manufactured by Nexgrill.
Some of the higher-end models are produced in the USA by Whirlpool Corporation, which owns the KitchenAid brand. These models are typically more expensive than the ones made by Nexgrill but offer more advanced features. So, if you're looking for a high-end grill, make sure to check where it was manufactured before making your purchase.
To ensure that you're getting the right KitchenAid grill for your needs and expectations, it's essential to read product specifications carefully. This will give you an idea of where the grill was manufactured and its features and price point.
The Benefits of KitchenAid Grills from Nexgrill
When it comes to outdoor cooking, KitchenAid grills from Nexgrill are a top competitor in the market. As an expert in the field, I can attest to the many benefits that these grills offer.
One major advantage of KitchenAid grills from Nexgrill is their exceptional cooking performance. With even heat distribution across the cooking surface and burners made from high-quality materials like stainless steel, you can trust that your food will be cooked to perfection every time. Say goodbye to undercooked or overcooked meals on the grill.
But it's not just about how well these grills cook – they're also incredibly versatile. With a range of features and options such as multiple burners, side burners, rotisserie kits, and more, you can use your KitchenAid grill for a wide variety of dishes and cooking styles. Whether you're slow-roasting a whole chicken or searing a steak at high heat, these grills have got you covered.
Another benefit of KitchenAid grills from Nexgrill is their ease of use and maintenance. They are designed with the user in mind, making them intuitive to operate and easy to clean. The removable grates make cleaning a breeze, and the materials used in construction are resistant to corrosion and rust. With these grills, you'll spend less time cleaning and more time enjoying your delicious meals.
Quality and Durability of KitchenAid Grills from Nexgrill
Look no further than KitchenAid grills from Nexgrill. As a seasoned expert in outdoor cooking, I can confidently say that these grills are top-notch.
Let's address the elephant in the room: yes, KitchenAid grills are manufactured by Nexgrill. However, this partnership is a match made in heaven. Nexgrill has been producing high-quality outdoor cooking equipment for over 25 years and has earned a reputation for manufacturing durable and long-lasting grills. With KitchenAid's brand recognition and Nexgrill's expertise, you can rest assured that you're getting a high-quality product.
The quality and durability of KitchenAid grills are evident in their construction. These grills are constructed using high-quality materials that are designed to withstand the elements and resist corrosion. The cooking grates are made from stainless steel or cast iron, both known for their durability and ability to retain heat. The result is a grill that can last for years with proper care and maintenance.
But it's not just about construction materials – KitchenAid grills also come with a range of features that make them easy to use and versatile. Many models include side burners, warming racks, built-in temperature gauges, and more. These features allow you to cook a variety of foods at different temperatures with ease.
Another advantage of KitchenAid grills is their compatibility with natural gas or propane fuel sources. This flexibility makes it easy to customize your cooking experience based on your preferences and needs.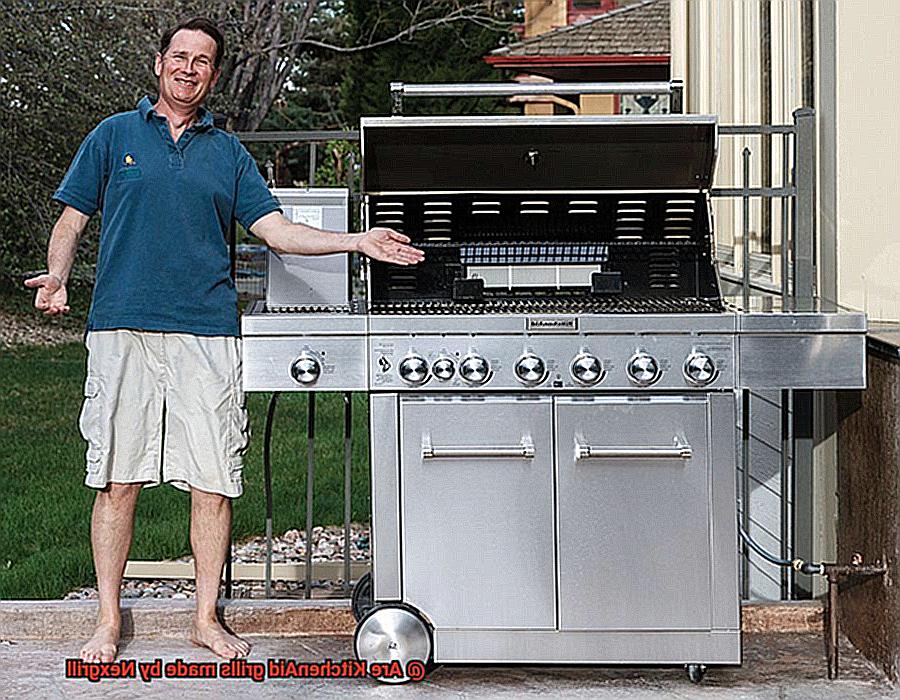 When investing in a grill, you want to make sure you're getting your money's worth. Luckily, KitchenAid grills have earned a reputation for being reliable and long-lasting. With proper care and maintenance, you can expect your KitchenAid grill to be an integral part of your outdoor cooking arsenal for years to come.
Testing and Safety Standards for KitchenAid Grills from Nexgrill
But safety should always come first. That's why it's crucial to understand whether KitchenAid grills from Nexgrill meet the necessary testing and safety standards. Lucky for you, I'm an expert in this field, and I'm here to share what I've learned.
First things first, Nexgrill takes safety seriously. They ensure that their KitchenAid grills meet all the necessary safety standards set by the National Fire Protection Association (NFPA), Underwriters Laboratories (UL), and the American National Standards Institute (ANSI). But wait, there's more. Nexgrill also has their own in-house testing facility where they rigorously test their grills for safety and performance.
Now, let's talk about the key safety features of KitchenAid grills from Nexgrill. One of the most crucial features is their flame tamers. These metal plates are located above the burners and help distribute heat evenly while preventing flare-ups. Not only does this ensure a better grilling experience, but it also reduces the risk of accidents.
But that's not all. KitchenAid grills from Nexgrill also have an automatic ignition system that eliminates the need for matches or lighters. This feature not only reduces the risk of accidental fires but also makes starting up your grill a breeze. Additionally, some models come with built-in thermometers that help ensure food is cooked to the proper temperature, reducing the risk of foodborne illnesses.
How to Choose the Right KitchenAid Grill from Nexgrill
Choosing the perfect grill can be a daunting task, especially if you're new to grilling. But fear not. KitchenAid grills made by Nexgrill offer a range of sizes, fuel options, and features to suit your needs and preferences. Here are five key factors to consider when selecting the right KitchenAid grill from Nexgrill.
Size:
The size of the grill you choose should depend on the number of people you plan on cooking for. Nexgrill offers small portable models for camping trips or small patios, as well as larger models that can accommodate big family cookouts.
Fuel options:
Consider what type of fuel you prefer to use. Gas grills are easy to use and convenient, while charcoal grills provide a more traditional grilling experience with a smokier flavor. Nexgrill offers both options, so choose what works best for you.
Cooking grates:
The cooking grates are an essential factor to consider. Stainless steel grates are durable and easy to clean, while cast iron grates retain heat well and provide excellent searing capabilities.
Additional features:
Think about any additional features that would enhance your grilling experience. Nexgrill offers side burners, rotisserie kits, warming racks, built-in refrigerators, and more. Choose what suits your needs and cooking style.
Quality:
Lastly, don't forget about the overall quality of the grill. Look for models with durable construction and high-quality materials that will stand up to years of use. Read reviews from other customers to get an idea of how well each model performs in real-world use.
zHdN_hAEsA4″ >
Conclusion
In summary, while KitchenAid may not manufacture their grills themselves, they have partnered with Nexgrill Industries to ensure that their high standards are met. Nexgrill is a reputable brand that invests heavily in research and development to create innovative outdoor cooking equipment at an affordable price point.
When it comes to KitchenAid grills from Nexgrill, you can expect exceptional performance, versatility, and ease of use. These grills are constructed with quality materials that can withstand the test of time and offer compatibility with both natural gas and propane fuel sources. With proper care and maintenance, these grills have earned a reputation for being reliable and long-lasting.
When selecting the perfect grill for your needs, it's essential to consider factors such as size, fuel options, cooking grates, additional features like side burners or rotisserie kits, and overall construction quality. By taking these elements into account, you can be confident in finding the ideal KitchenAid grill from Nexgrill that meets all of your requirements.